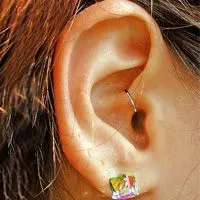 WHAT IS ACU-STAPLE?

A tiny surgical stainless steel staple that is placed in the middle cartilage of the ear between specific pressure points to target headache and migraine relief. We've had outstanding results.

HOW DOES IT WORK?

The staple provides a continuous pressure to a specific point in the ear. The pressure point that is stimulated, which is Point Zero/The Wonderful Point, is good for stress, depression, anxiety, headaches, migraines and insomnia. The function of that point is to bring the body and mind back to a state of harmony as when you are in the womb.

HOW LONG DOES IT LAST?

It can last from 6 weeks to 6 months. It varies from one person to the other. Clients average 12 to 16 weeks. Your body will get used to the stimulus on the point after a certain amount of time. When you stop seeing results, it's time to take it out and either leave it out or do a reposition (get another set of staples in) If it is working great and not causing any issues, leave it in as long as it's working. When it's time to take it out, it will be removed and put back in the same day in a slightly different spot between the pressure points.

DOES IT HURT?

It is similar to having your ears pierced. There is a slight burning/stinging sensation, but subsides very quickly.

WHAT IS THE DIFFERENCE OF GETTING ONE STAPLE VERSUS TWO?

It is believed that one ear is more effective than the other, but there is no way to know for sure which one. I always suggest both ears because I have seen higher success rates and your chances of it working are increased.

WHAT IF THE STAPLING ISN'T WORKING?

The staple is effective 80%-90% of the time. I tell all clients to give it one full week, if they truly see no results to come in within 2 weeks of placement and I will reposition the staples at no charge. If it does not work the second time then this most likely is not the plan for you.

WHAT IF ONE BECOMES LOOSE?

If it is no later than 10 days after placement, I will replace the staple at no charge.

WHAT ARE THE RISKS?

Infection is the highest risk. If you follow your after care instructions and keep the area clean and dry, and do not touch the staples, you will have little chance of the ear becoming infected. Scarring can occur, but the chances are slim because the staple is so small.
WHAT IS THE COST?
The procedure costs $125 (which includes education about the procedure, both staples and take home pack). A reposition costs $75. What is a reposition? If the staple is working, but over time you aren't seeing the benefits and want to get a new set of staples. The new set of staples is called a reposition.